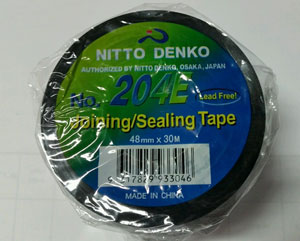 Duct tape or duck tape is cloth- or scrim-backed pressure-sensitive tape - often coated with polyethylene. There are a variety of constructions using different backings and adhesives. One variation is gaffer tape - designed to be cleanly removed, unlike standard duct tape. Another variation is heat-resistant duct tape useful for sealing heating, ventilation and air-conditioning ducts, produced because standard duct tape fails quickly when used on heating ducts. Duct tape is generally gray or black but also available in other colors.
Found a lower price? Tell us and ask about our price beater guarantee!
All of our Nitto Duct Tape Products are manufactured in Victoria for fast delivery.
Lead free PVC duct tape is perfect for sealing, joining, repairing and binding.
The solvent based rubber adhesive provides flexibility and strength under even the most extreme conditions and a wide variety of surfaces.
Suits all trades including plumbing, and air conditioners.
Duct Sealing Tapes -> Nitto Duct Tape 48mm x 30m x 0.13mm Denko Joining/Sealing Tape
Nitto 204E Duct Sealing Tape PVC


Width: 48mm

Length: 30 meters

Colour: Black

0.13 mm Thickness

Commonly used in plumbing industries to join heavy gauge polyethylene sheets and to form permanent seals on air conditioning ducts.

Duct tape is the universal item for sealing, taping, repairing, marking, binding all sorts of items in all sorts of situations in business and around the home.

List Price:

$ 158.97

Now Price:

$ 137.28
Local Pick Up (Melbourne Hallam) Pickup hours: 10:00AM ~ 3:30PM (Monday ~ Friday)
eParcel Standard 3 - 7 Business Days