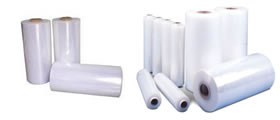 Pallet wrap is also known as stretch wrap. It is visually like a large roll of cling wrap but thicker. The most common use of pallet wrap is to secure cartons and products onto a pallet for shipping around Australia. It is remarkably practical and efficient for protecting your stock. Aussie Packaging supply several options in pallet wraps and packaging supplies at wholesale prices for easy online purchase. Clear & Coloured Hand Rolls, Machine Rolls, Mini Rolls & Dispensers. Natural pallet wrap is available in the following thicknesses: 20um and 25um. You can wrap the pallet by hand however it is much easier to apply it using a metal dispenser.
Found a lower price? Tell us and ask about our price beater guarantee!
All of our Pallet Wrap Products are manufactured in Victoria for fast delivery.
OZPacking's Pallet Wraps are provided to you at lowest prices, and we are always ready to deliver the wraps from our Melbourne warehouse to anywhere in Australia.
Pallet Wraps -> 1 Roll of 500mm x 400m 25um Clear Hand Stretch Film Cast Pallet Wrap
Type: Cast Color: Clear

Width: 500mm Length: 400m

Thickness: 25UM SKU# SW01

Retail Price:

$ 27.79

Sale Price:

$ 23.87

Features:

– Superior cling, reduced noise
– High load containment value
– Exceptional tear resistance
– Outstanding puncture resistance
– Good resistance to abrasion and shock
– Great optical clarity for electronic scanning
Pallet Wraps -> 1 Roll Of 500mm x 400m 25um Pallet Wrap Black Hand Stretch Film
Type: Cast Color: Black

Width: 500mm Length: 400m

Thickness: 25UM SKU# SW02

Retail Price:

$ 32.99

Sale Price:

$ 25.97

Features:

5.2Kg / Roll
100 % Recyclable and Eco-Friendly
It ensures safe & secure delivery of packages
Hand Stretch Film is economical, tough, and durable
Hand Stretch film is wrapped around pallets, boxes or bundling small items
Protects shipment from water, dirt, moisture & damage caused by excess movement
Pallet Wraps -> OZPacking Clear Hand Stretch Film Pallet Wrap
4 Rolls of 500mm x 400m 25um Clear Pallet Wraps


Type: Cast Color: Clear

Width: 500mm Length: 400m

Thickness: 25UM SKU# SW01

Retail Price:

$ 108.79

Sale Price:

$ 94.95

Features:

– Superior cling, reduced noise
– High load containment value
– Exceptional tear resistance
– Outstanding puncture resistance
– Good resistance to abrasion and shock
– Great optical clarity for electronic scanning
Pallet Wraps -> 4 Rolls of 500mm x 400m 25um Black Pallet Wraps
Type: Cast Color: Black

Width: 500mm Length: 400m

Thickness: 25UM SKU# SW02

Retail Price:

$ 109.79

Sale Price:

$ 95.97

Features:

5.2Kg / Roll
100 % Recyclable and Eco-Friendly
It ensures safe & secure delivery of packages
Hand Stretch Film is economical, tough, and durable
Hand Stretch film is wrapped around pallets, boxes or bundling small items
Protects shipment from water, dirt, moisture & damage caused by excess movement
Local Pick Up (Melbourne Hallam) Pickup hours: 10:00AM ~ 3:30PM (Monday ~ Friday)
eParcel Standard 3 - 7 Business Days