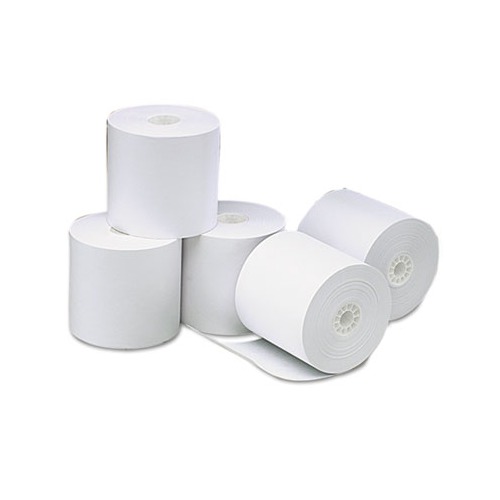 Thermal paper roll is the premier choice for businesses that need to make multiple prints in a short amount of time. No ink is required because the information prints through heat reactions. If your business has high-demand printing needs, Receipt Rolls will help you buy thermal paper rolls online so you can keep your business running smoothly.
Found a lower price? Tell us and ask about our price beater guarantee!
All of our Thermal Paper Receipt Rolls are manufactured in Victoria for fast delivery.
Aussie Packaging understand that choosing the right paper receipt roll for your business can be a difficult process, which is why we offer a large selection of thermal paper rolls. When you buy paper rolls online, your supplies will be sent directly to you, and buying in bulk can save you money. We will have the paper roll solution to fit your business's unique needs and budget.
| | | | | |
| --- | --- | --- | --- | --- |
| Code | Size | Qty | Price | Check Now |
| RR80 | | 50 Rolls | $60.00 | |
| RR76 | | 50 Rolls | $55.00 | |
| RR57 | | 100 Rolls | $55.00 | |
| RR45 | | 100 Rolls | $49.00 | |
| RR36 | | 200 Rolls | $86.00 | |
Thermal Paper Rolls -> 10 Rolls 80x80mm Thermal Paper Cash Register Receipt Roll for Docket Printers
Colour: White

Size: 80mm x 80mm x 12mm (core)

Features:

The 80mm x 80mm roll size is the industry standard for Thermal Receipt (P.O.S.) Printers.
High sensitive thermal paper producing dark, black & sharp images
Extra whiteness & thickness paper base to avoid curling and for easy reading
Durable and resist fading
These rolls are suited to Digipos Receipt Printers, Citizen Receipt Printers, Epson receipt printers and many more.
The same manufacturer of this item supplied to all mainstream supermarket (incl. Tesco, Aeon, Giant), restaurant chain stores (incl. Papa Rich, McDonalds, Chatime) and more in Malaysia. Hence, this item has proven its capability and reliability. 

List Price:

$ 22.97

Now Price:

$ 19.95

ACCEPT LOCAL PICK UP !
Pick up from: 6/45 Technology Circuit Hallam VIC 3803
Monday-Friday 9:30AM--4PM
Thermal Paper Rolls -> 100 Premium Thermal Paper 57x36mm Cash Register Receipt Rolls EFTPOS
Colour: White

Size: 57mm x 36mm

Features:

The 57mm x 36mm roll size is the industry standard for Thermal Receipt (P.O.S.) Printers.
High sensitive thermal paper producing dark, black & sharp images
Extra whiteness & thickness paper base to avoid curling and for easy reading
Durable and resist fading
These rolls are suited to Digipos Receipt Printers, Citizen Receipt Printers, Epson receipt printers and many more.
The same manufacturer of this item supplied to all mainstream supermarket (incl. Tesco, Aeon, Giant), restaurant chain stores (incl. Papa Rich, McDonalds, Chatime) and more in Malaysia. Hence, this item has proven its capability and reliability. 

List Price:

$ 57.99

Now Price:

$ 45.97

ACCEPT LOCAL PICK UP !
Pick up from: 6/45 Technology Circuit Hallam VIC 3803
Monday-Friday 9:30AM--4PM
Local Pick Up (Melbourne Hallam) Pickup hours: 10:00AM ~ 3:30PM (Monday ~ Friday)
eParcel Standard 3 - 7 Business Days