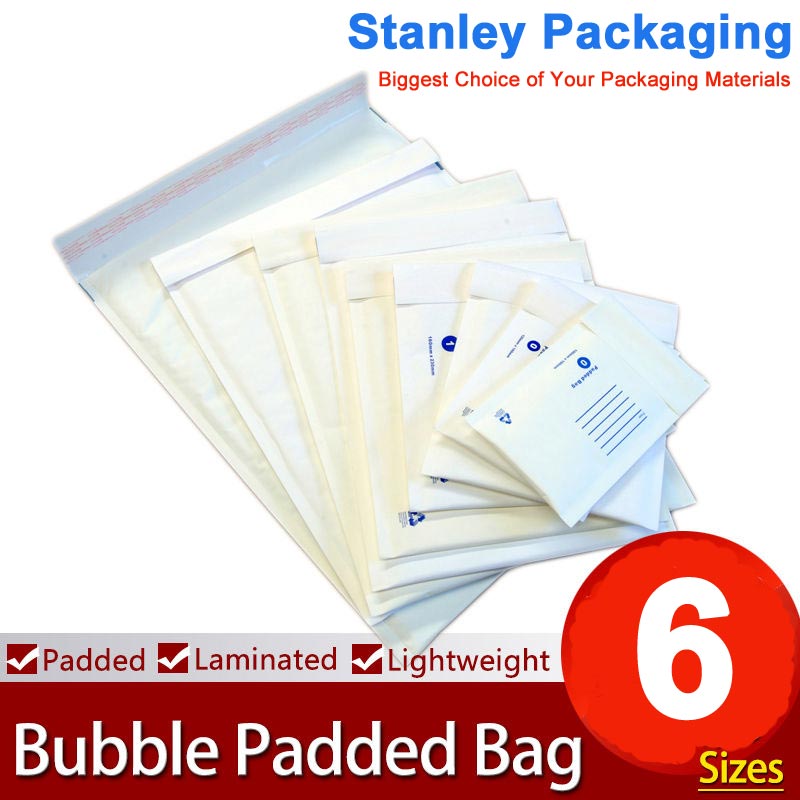 Durable, Protective Cushioning Bubble Padded Envelopes protect shipped items without additional bulky packaging with these simple padded bubble mailers. Save time and money by adding these to your shipping materials. Their small, flat size makes them easy to store in small areas, so you don't have to sacrifice storage space to keep a stock on hand.
Found a lower price? Tell us and ask about our price beater guarantee!
All of our Bubble Padded Bags are stock in Victoria for fast delivery.
Aussie Packaging supply top quality Bubble Padded Envelopes - seamless bottom affords additional cushioning protection along with greater overall strength and safety. Fully laminated kraft and air cellular construction provides outstanding stiffness and puncture resistance. High quality strong value for money padded bubble bag for sending all types of goods which require some protection. Very light weight so you save on postage.
Padded Envelopes -> 500 PCS Bubble Padded Bag Mailer Small Envelope 100mm x 180mm
Bubble Padded Bag Kraft Mailer Envelope 100x180mm Size #00
Plain White Fully Laminated Kraft Paper
Premium Quality, Lightweight
Bubble Lined For Added Protection

Size: 100mm x 180mm (Inner Size)

Use bubble mailers to save your money and time!

Features:

- Heavy Duty Kraft Paper
- Finned  sides for ultimate protection
- Heavy Duty yet Light weight!
- Self-Sealing (just peel-and-seal)
- Extra Tough Bubbled lining Inside
- Easy insertion with High-Slip Lining
- Secure Seal with easy peel and stick
- ~10mm Fins both sides
- Seamless bottom increases protection and strength
List Price:

$ 58.97

Now Price:

$ 44.00

ACCEPT LOCAL PICK UP !
Pick up from: 6/45 Technology Circuit Hallam VIC 3803
Monday-Friday 9:30AM--4PM
Local Pick Up (Melbourne Hallam) Pickup hours: 10:00AM ~ 3:30PM (Monday ~ Friday)
eParcel Standard 3 - 7 Business Days